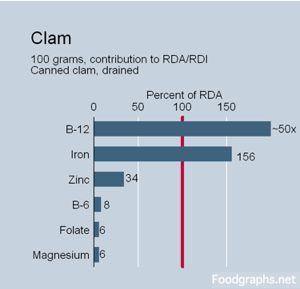 Brains need the right dietary mix to be healthy. Too much or too little of a good thing can lead to an unhealthy brain and you could well end up depressed. While all nutrients are important in healthy brains and healthy bodies, it turns out that some are more critical in our brain function than others. Omega 3 fatty acids are a great example. Your brain consists mostly of fat and without Omega 3s, a critical fat for your brain, you may end up fighting depression. If you add Omega 3 to your diet, you may get some relief from depression.
The question, then, is: What are you deficient in? In the depression case, there are some usual suspects: Omega 3s, B vitamins, magnesium, zinc, iron in postpartum women, and possibly vitamin D in the winter. I review each of these nutrients in the book Rebuild from Depression: A Nutrient Guide and provide information on body signs of deficiencies and the most effective clinical tests.
But what can you do right now to start down the right food path? You need to eat food packed with nutrition. In the book, I identify foods highest in seven nutrients most commonly associated with depression and call those foods "depression buster foods." I use the USDA nutrient database of over 5,000 foods and foods most likely to help us fight depression.
This is the first sort of analysis of food and depression of its kind. There are many "lists" out there of foods, some lists of foods that fight depression, but this is the first list based on a systematic selection of nutrients that performs a systematic analysis of over 5,000 foods.
I will feature these foods or the related nutrients on the blog regularly.
Do not get me wrong, food is not a drug as defined by the FDA, a substance that has a pharmacological effect on depression. The food may help bust your depression if the food has nutrients you are deficient in.
With nearly three years of blog entries, you will find a lot of information here on food and depression. Gathering it all in links below is cumbersome. Reading all the links likely is too. Having written the book, it strikes me how cheap is a $20 cover price for organized and printed information compared to online articles. Buy it today if you can. It really will save you time. Until then, take advantage of the resources here.
Nutrients and depression
Depression and Omega 3

How much Omega 3 for depression

B complex vitamins and depression

The magnesium-depression link

Can zinc fight depression?

Iron and postpartum depression
Food and depression
Omega 3, depression, and seafood

Black eyed peas

Beef liver vitamins and minerals

Beef liver and Omega 3 fatty acids

Grass fed beef

High Omega 3 eggs
For laughs and more food, read the depression buster search archives.
Things I Love Thursday and Cooking Thursday, and Fight Back Friday